About 70 percent of the 20 million kids who register each year for youth hockey, football, baseball, soccer and other competitive sports quit by age 13… and never play again.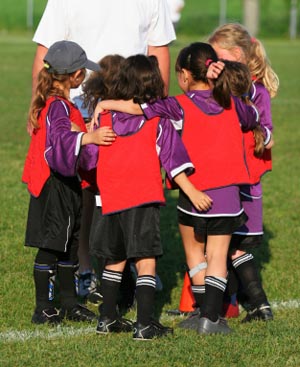 According to the National Alliance for Youth Sports, children are dropping out of sports in alarming numbers. And sadly, says Michael Pfahl, executive director of the National Youth Sports Coaches Association, the number one reason they quit "is that it stopped being fun."
The Benefits of Sports
Dr. Terri Orbuch was a competitive athlete all through high school and is now raising two teen athletes of her own.
"Sports teach lessons and skills to children they can't easily get elsewhere," says Dr. Orbuch. "Parents need to help their kids have a positive and fun experience with sports."
Organized youth sports provide a fun and easy way for kids to stay physically active. Time after time, studies have shown that such physical activity prevents obesity, helps behavior problems, improves grades and postpones teen sexual activity.
How Kids benefit from organized athletics:



Talk to your child
If your child announces that he or she's quitting the team, find out why. Is he or she getting harassed by an overzealous coach or competitive teammates? Is he or she feeling pressure to perform — possibly even from you? Ask questions, says Dr. Orbuch:
How do you feel about the other kids on the team?
How's the coach treating you?
How do you feel about your skills and how you're doing on the team?
Is it fun? If not, why not?
Become involved
Attend some practices to see if you can observe a problem firsthand. Or volunteer to help the team by working the snack bar, keeping score or managing equipment. Coaches and teammates appreciate involved parents, and it's great for your child's morale.
Keep an upbeat attitude
Be aware of your words and behaviors toward the coaches, officials and teammates, and don't be overly concerned with winning. Keep a positive attitude about your child's participation — even if he or she loses or routinely sits on the bench. Don't be that parent who yells at the coach or refs!
Find a sport your child loves
Keep an open mind about what you consider a sport, and find a physical activity that clicks with your child. Noncompetitive kids might like biking or skateboarding. A theatrical child may enjoy dance classes. From marching band to archery, there are so many non-traditional sports for your child to try.
Keep them engaged with support
All children need support and, just by taking an interest, you can encourage your child to stay on course. Your involvement is the key to their success. Attend their games, practice with them at home, help them pick out the right equipment and make sure they get to practices.
A lifelong passion
Keeping your child connected to physical activities they love is a gift that keeps on giving. Kids who grow up being physically active and having positive associations with sports during youth remain physically active as adults.